Address:
391 Chestnut Tree Hill Road
Oxford
,
CT
,
06478
41° 27' 15.7968" N, 73° 5' 33.4824" W
Contact name:
gazybrothersfarm@sbcglobal.net
Business/organization type:
Ages for which our activities are most appropriate:
Community Supported Agriculture program (CSA) & farm stand in Oxford, CT. Also found at many Fairfield county markets and at our farm stand throughout the growing season: Darien, Norwalk, Monroe, New Canaan, Shelton, Stratford, & winter markets.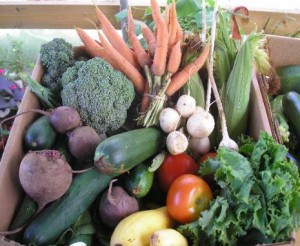 Gazy Brothers Farm is going on its fourth generation of farming. Established in 1918, Grandma and Grandpa Gazsi purchased their farm in Oxford. At that time, they raised the freshest vegetables sold at local grocery stores and delis in the Naugatuck Valley area. The Gazsi cousins owned a butcher shop and would sell Grandma Gazsi's homemade pickles and sauerkraut from the cucumbers and cabbage raised on the farm.
Today, Ed Gazy runs the 80 acre farm with the help of his wife, Alexis; his brothers, Pete and Tony; and his four children, Dominic, Roseanne, Nicholas, and Albert. Neighbors tend to give a helping hand during the busy hay season, too.
The Gazys currently produce approximately 25 acres of vegetables, herbs, flowers, and plants on the farm and on neighboring properties. Ed and the family also keep busy by working up to 200 acres of hay each year. Besides the farm stand, the Gazys sell produce at a roadside stand on Route 67 in Oxford, several farmer's markets, and a few grocery stores when extra produce is available and through a Community Supported Agriculture program (CSA). Produce is not organic, however, it is grown using an integrated pest management program, which reduces the amount of pesticides, fertilizers, and other chemicals to ensure healthy plants and flavorful produce.